Latest posts by Hailey Friedman
(see all)
From Houston to Dallas to Austin, Texas is home to some of the top food and beverage manufacturing companies in the country. Texas food and beverage manufacturers do it all, from bakeries and breweries to packagers and bottlers.
If you're looking for some of the best food manufacturing companies in Texas, you should know this list isn't exhaustive: there are lots to choose from! We just selected some of the top to give you an idea of the breadth and abilities of Texas co-mans and co-packers.
Want to narrow it down even more? By creating a project on PartnerSlate you'll get matched with all the great manufacturing partners in Texas that are the best fit for your next food product. But you can always take a look first to get an idea!
What do Food and Beverage Manufacturing Companies Do?
The USDA describes Food and Beverage Manufacturing as any company that turns a raw organic product into an intermediate or finished product. Since so much goes into the modern creation of the food market across the globe, there are many food and beverage manufacturers requiring a host of professionals to create their unique products.
This means it's important to do your due diligence when selecting a manufacturing company for your needs, since you want to avoid any mistakes that could happen with working with a co-manufacturer or co-packer.
This is why we created PartnerSlate: the CPG industry leader in both introducing and connecting brands with co-packers. PartnerSlate can help identify what you need for your company to succeed and puts you in touch with the best manufacturer to help you accomplish it. Say goodbye to the tedious research and legwork and instead turn your focus on getting your product manufactured and packaged.
Ultimately, it's really about building a relationship with the right co-packer, which PartnerSlate can help you do… and they'll do it in half the time the standard process takes.
Top Food and Beverage Manufacturing Companies in Texas
While this is a list of some of the best manufacturing companies, the true "best" food and beverage manufacturing company is one that is the best fit for your needs. From Houston to Dallas to Austin and more, there are co-manufacturers across the state that have profiles on PartnerSlate waiting to match with you.
Apogee Foods
Apogee Foods is a great manufacturing company to partner with if you are trying to break into the competitive natural or gluten-free snack market. Apogee Foods has a track history of working well with those who are looking to create a brand that might include nut mixes, granola bars, snacks, baked goods, and chocolate-enrobed product.
Services:
Dry or Refrigerated storage
Ingredient Sourcing
Packaging Sourcing
Product R&D
Full Commercialization
Fulfillment Services
QA Testing
Nutritional Analysis
Recipe Development
Logistics and Product Certifications
Procurement
Demand Planning
Contract packaging
Contract manufacturing
Private labeling
Product Types:
Nuts and Mixes
Sports, Nutrition, and Weight Management Bars
Baked Confections (Brownies, Cookies, Muffins, Dessert Bars, and Pies)
Breakfast Cereal and Granola
Snack Foods and Snack Bars
Extruded Products
Chocolate Enrobed Products
Speciality Product Capabilities:
Gluten-free
Kosher
Organic
Location: 9755 Clifford Dr., Suite 150, Dallas, TX 75220.
ATX Specialty Foods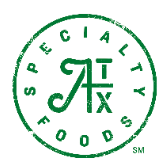 ATX Specialty Foods prides itself as a "one-stop-shop," in that it can handle the job from start to finish, making it an easy and simple experience to produce a product with them. They specialize in dips, sauces, marinades, and any kind of specialty sauces or beverages you could imagine.

Services:
Liquid Blending
Kettle Cooking
Cold Fill
Hot Fill
Multi-Packaging Options
Nutritional Analysis
Shelf Life Studies
HAACP Plan Development
Contract packaging
Contract manufacturing
Private labeling
Product Types:
Teas/Non-Carbonated Drinks
Sauces & Spreads
Dressings
Salsas
Marinades
Jams
Dips
Syrups
Broths and Soups

Speciality Product Capabilities:
Location: 1807 W. Slaughter Lane, Suite 300, Austin, TX 78748
Consolidated Mills Inc.
Consolidated Mills Inc. is not the last amazing business from the Houston Area that will be on our list, but they are the first! Specializing in any kinds of mixes you can think of, this manufacturer is perfect if you have a focus on any kind of powders or seasonings.
Consolidate Mills Inc. has the added benefit of being able to run a production size of your choice, starting with run sizes as small as 25,000 to those of a million-plus!
Services:
Dry storage
Turnkey Ingredient Sourcing
Wet & Dry blending
Processed Foods
Private Label
Large Production Capacity
Product Development
Custom Blending
Nutritional Analysis
Packaging Consultation
Small Production Minimums
Contract Packaging
Contract Manufacturing
Product Types:
Drink Mixes
Dressings
Salsa
Marinades
Spices and Extracts
Non-Carbonated Beverages
Flavor Emulsions
Food Coloring
Snow Cone Syrups
Speciality Product Capabilities:
Location: 7190 Brittmoore, Suite 150, Houston, TX, 77041
Global Gourmet
Global Gourmet is a minority-owned business that specializes in Asian, Latin, and American foods, and has successfully done so for 30 years! Global Gourmet can certainly help any products working on placement and location, as their products show up in 65% of food retailers nationwide.
Global Gourmet specializes in not only creating a quality product through a combination of automation and precise finishing touches, but makes sure that each product meets those high qualities at the lowest cost to customers and producers. Whether it is gluten-free, clean, or another unique product, Global Gourmet has the experience to help.

Services:
Turnkey Ingredient Sourcing
Full Ingredient Preparation (Cooking, Deboning, Batter and Fry, Dice, Etc.)
Freeze and Store
Multi-level production sizes
Contract Packaging
Contract Manufacturing
Private Labeling
Product Types:
Prepared Appetizers and Entrees
Frozen Prepared Appetizers and Entrees
Egg Rolls/Spring Rolls/Burritos
Pizza
Chicken
Meal Kits
Sauces
Sweet and Salty Empanadas
Battered, Breaded, and Fried foods

Speciality Product Capabilities:
Location: 3925 Miller Park Dr., Garland, TX, 75042
IBR Packaging
IBR Packaging is a co-packer based in Dallas and Fortworth Texas. It is a company that works with established brands, but is also happy to work with newer companies looking to launch new runs.
IBR works at all sizes and offers competitive prices too.

Services:
Dry Storage
Turnkey Ingredient Sourcing
Fulfillment Services
Multiple Packaging Materials Options
Kitting Services
Multi-Packaging Delivery Options
Contract Packaging
Contract Manufacturing
Private Labeling

Product Types:
Beverages-Dry Mix
Bakery-Flour and Dough Mixes
Grain and Oilseed Mixes
Dry, Condensed and Evaporated Dairy
Sauces and Dressings
Jams and Syrups
Nut Butter
Marinades
CBD-Infused Products
Candies and Chocolates
Herbs and Spices
Powder and Liquid Vitamins

Speciality Product Capabilities: Not listed.
Location: 1841 Monetary Ln., Suite 100, Dallas TX
JHS Packaging
JHS Packaging knows all the struggles of starting your first product from start to finish because they went through it themselves. They started the brand because they wanted to bring their own high-quality standards to the co-packing business for others like them who found the competition lacking.

JHS Packaging prides itself on quality and speed, the two most important factors in co-packing. They will see your product hit the shelves when and where you want it with minimal issues. If you're looking for comfort and reliability, look no further.

Services:
Turnkey Ingredient Sourcing
Multi-Packaging Options
Portion Control
Multiple Blending Options
Multi-Size Runs
Single-Serve Packaging
.5g to 50lb Single-Use Packages
Shelf Life and Stability Testing

Product Types:
Beverages-Dry Mixes
Meal Kits
Pasta
Flour and Dough Mixes
Dry, Condensed and Evaporated Dairy
Cereals and Granola
Grains-Malt, Vegetables and Oilseed
Sauces and Dressings
Jams and Spreads
Spices & Extracts

Speciality Product Capabilities:

Location:
2920 Shotts Street, Fort Worth, TX 76107
Lone Star Bakery
With a history dating back to as early as 1889, Lone Star Bakery's reputation can be associated with consistent quality and excellent taste. After adopting modern baking techniques, the company has gone on to produce high volumes of baked goods for its consumers while maintaining the same assured quality from its early years.
Currently, Lone Star Bakery is among the most recognizable bakery manufacturing companies in the US. They are serving the country's top foodservice distributors, grocery chains, and QSR brands all the while providing a variety of products for different food operators.

Services:
Foodservice Production
Food Wholesale Service
Design and Produce Packaging
Product Formulation
Concept Baking
Nationwide Distribution
School Meals

Product Types:
Kolaches and Fried Pies
Variety of Desserts (Brownies, Bundt and Ring Cakes, Sheet Cakes, Cinnamon Rolls, and Cookies)
Flour Mixes and Dough
Bread Products
Snack Foods (Crackers and Biscuits)
Speciality product capabilities:
Location:
6905 US Hwy 87 E, China Grove, TX 78263
8100 US Hwy 87 E, China Grove, TX 78263
Local Oven Gluten Free
If you are looking to launch a line of high-quality, gluten-free products, Local Oven will likely be your vendor of choice. This manufacturer has experience in producing all kinds of baked goods without gluten, with a track record that includes hoagie rolls, croutons, stuffing, hot dog buns, and even brownies!
In addition to their gluten-free options, they also offer Paleo and Keto production lines, as well as CBD and Hemp lines. With a factory that is peanut-free, dairy-free, and kosher-certified, you are able to comfortably and confidently do business with someone who has the highest standards for your product line.
Services:
Refrigerated, Freezer, and Dry Storage
Turnkey Ingredient Sourcing
Fulfillment Services
Contract Manufacturing
Product Types:
Cookies
Frozen Baked Goods
Tortillas
Pasta
Flours and Dough
Snack Bars
Chips and Crackers
Puffs and Popped Snacks
Speciality Product Capabilities:
CBD/ HEMP products
Gluten-Free
Kosher/Parve Certified
Dairy-Free
Peanut Free
Location: 4436 McEwen, Farmers Branch (Dallas), TX, 75244
New Caney Beverage
New Caney Beverage, as the name suggests, specializes in manufacturing some of the finest beverages, whether carbonated, still water, or non-carbonated. New Caney Beverage also handles vitamins and supplements, whether in liquid or powder form. They handle dry mixes for dairy and beverages as well.
With beverage run sizes from 25,000 to one million, they can accommodate a product line of any size, with services that make any drink-related project easy to tackle and manageable.

Services:
Turnkey Ingredient Sourcing
Turnkey Packaging Sourcing
Product Development/R&D
Dehydration of Liquids Into Powder
Co-Packing Options
Custom Formulation
Nutrition & Supplement Facts Labeling
Packaging & Label Design
Contract Packaging
Contract Manufacturing
Private Labeling
Tunnel Pasteurization
Flash Pasteurization
Organic Production
Cold Fill
GMP Certified

Product Types:
Dry Mixes
Condensed or Evaporated Dairy
Vitamins, Liquid of Powder
Still Water
Non-Carbonated Beverages

Speciality Product Capabilities:
Location: 18913 Phillip Way, New Caney, TX 77357
Pack N' Fresh
Pack N' Fresh offers some of the best packaging options in the entire state of Texas. They are very intentional about having the best products on offer when it comes to packaging needs and are more than happy to connect and provide samples or consult you on what fits your product and brand best.
For those looking for a hands-on, assistive company that can handle small and large product batches, this is the company for you. Their specialty is focused on their packaging, so the real question is what are you going to put inside it!
Services:
Turnkey Ingredient Sourcing
Ingredients Processing
Multi-Packaging Options
Multi-Blending Methods
Different Shipping Options
Contract Packaging
Contract Manufacturing
Private Labeling
Product Types:
Beverage Mixes
Dried Herbs
Pasta
Flours and Doughs
Grains
Dried Fruits
Oil
Sauces
Spices
Nuts and Mixes

Speciality Product Capabilities:
Kosher Certified
Organic Production

Location: 1330 Post & Paddock St., Ste. 500, Grand Prairie, TX, 75050
Texas Food Solutions
Texas Food Solutions is a great company to choose from when you want to produce high-quality products that involve pasteurization. TFS uses a unique style of pasteurizing called High-Pressure Processing, which allows them to make a product that tastes better and has a nicer appearance.

Another perk of TFS is that they work not only in Texas, but also nearby Louisiana, and are a great point of contact throughout the south. They have a team that will work with you from lab testing through distribution, so they make a great choice.

Services:
Storage-Refrigerated
Storage-Freezer
Turnkey Ingredient Sourcing
Import/Export Services
Packaging Development Assistance
Contract Packaging
Contract Manufacturing
Private Labeling
Product Types:
Non-Carbonated Beverages
Fresh and Frozen Prepared Appetizers and Entrees

Speciality Product Capabilities:
Lab Testing Services
Product and Packaging Development Assistance
Cold Storage
Import and Export services
Test Kitchen

Location: 25002 Clay Rd., Katy, TX, 77493
Tex Bev
Tex Bev is a great company and extremely versatile when it comes to your can packaging needs. Tex Bev prides itself on its ability to put your drink in whatever packaging you want, from small 8oz cans all the way up to 19.2oz tall boys.
In addition to cans, Tex Bev does kegs and has various stylistic types of cans that can really help your product take off once it hits the shelves. These guys can accommodate runs of all kinds and also do labeled and shrink-sleeved cans.
Services:
Beverage Development
Beverage Canning
Contract Packaging
Multi-Packaging Options
Labeling and Sleeving
Custom Labeling
Contract Packaging
Contract Manufacturing
Private Labeling

Product Types:
Beverages (Alcoholic)
Beverages (Carbonated)
Beverages (Non-Carbonated)

Specialty Product Capabilities: Not listed.
Location: 2777 Irving Blvd, Dallas, TX 75207
How to pick the best food & beverage manufacturer in Texas
It is important to pick a manufacturer who best aligns with your own needs and goals. Perhaps you are just getting out of the conceptual phase and you need to find a business that helps you determine not only what you are making but how to advertise it.
Perhaps you are still trying to find funding for your business's full needs, so you need to find a manufacturer who can start small scale – but who can meet your future needs. The biggest first step, regardless of your specific needs, is to do research on each manufacturer you are seriously considering to be your partner.
Manufacturer Research
Begin by seeing what each manufacturer specializes in and what they are good at. Perhaps you want peppy packaging, or a hyper-efficient assembly line for your product. Whatever your key needs are, look at each company and determine if they have positive feedback or experience handling such things. If they do, that's the first step to finding your company. After that, limit locations by other practical methods, most importantly considering budget and size of production.
Manufacturer Outreach
Once you find a few manufacturers who meet your criteria, begin to make calls and send emails to companies. This may sound subjective, but find one who works well with you and is communicative. Many manufacturers may look perfect on paper, but if it takes weeks to hear back from them, they likely aren't people who you would want to trust when your product, and all the money behind it, is on the line.
Getting Support
Once you find a company, there are a few key steps regarding making your plans a reality. The first step is to partner with the company to see if you really are ready for a launch. Make sure the road between your planned product and its hitting of shelves (physical or digital) is completely laid out in detail, and from there, it will be easier to find whatever support you need.
Conclusion: The top food & beverage manufacturing company in Texas?
At the end of the day, the best selection for the perfect company will come down to your unique business needs. A huge component of your new product will be your Texas co-packer, so you cannot afford to waste time or money on the wrong one.
Without a doubt, the best strategy is PartnerSlate, which houses a comprehensive and comparable list of all the co-packers in your area. It's as simple as creating an account and narrowing down the criteria. So when finding a co-packer, consider your needs, consider your budget, and most importantly, consider saving time with the aid of PartnerSlate.