Find Your Next Contract Manufacturer Faster.
Take Your Product from Idea to Shelf!
Get Matched! Concierge Service
PartnerSlate Matching is the best way to find your next contract manufacturer. We can help cut months out of your search process!
We will match your project with up to 3 manufacturers that fit your needs. We will only put you in touch with partners that are interested in your project and likely to succeed.
There is no cost to get matched! You only pay a small fee when you successfully work with a partner introduced to you by PartnerSlate.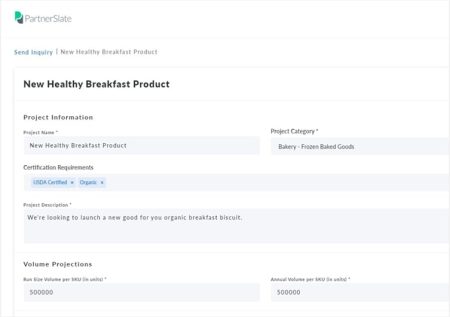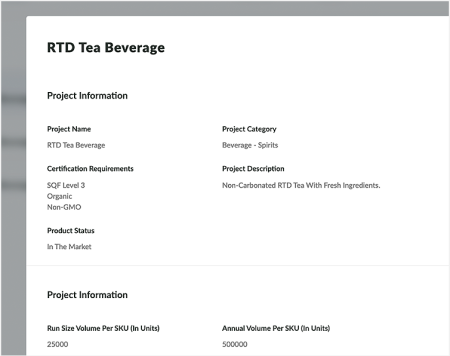 Create Detailed Profiles & Manage Projects
Give potential production partners insight to your brand and products with a detailed profile.
Create project briefs for each product you are working on. Manage all your production info in one place and easily share the details with multiple potential partners.
Streamlined Onboarding with PartnerSlate Engagements
Once you're matched with a manufacturer on PartnerSlate, easily sign and share documents securely inside the engagement. Get insight into where you are in the onboarding process with the PartnerSlate progress tracker and learn best practices on working with contract manufacturers.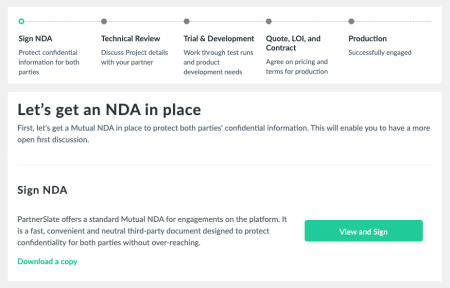 Leading Brands Get to Market Faster
with PartnerSlate
The Leading Platform for Connecting Brands with Manufacturing Partners in the CPG Industry
"Hours of research and phone calls were exhausting. However, in less than one month on PartnerSlate I found several co packers that were a good match for my product."